Replacement Parts
Free shipping available in contiguous US
Expedited & worldwide shipping available
Step 1 - Determine the Parts Needed
Look at the sticker on the top of door on the side that faces outdoors.
Newer models of the product will have a model number listed (C, S, M, or L). Older models will have no model number.
If you have a model number, you can proceed to ordering your replacement part using the model number. If you have no model number listed, you will have to take one more step.
Step 2 - Measure the Pet Opening
(only needed for No Model doors)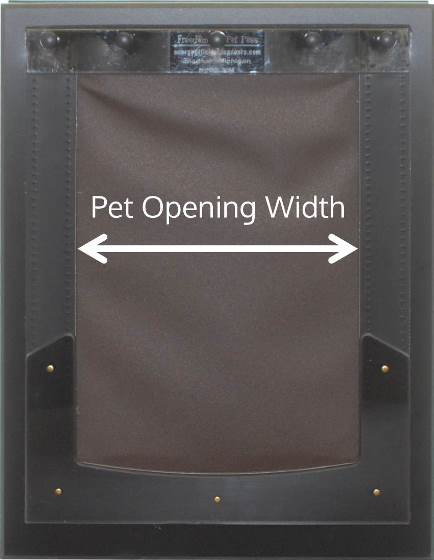 If you do not have a model number, this means that you have our "old style" pet door, which requires a slightly different part than our newer style.
To get the correct size part, you will have to give us a measurement so that we know what size door you have. Measure the width (left to right) of what we call the pet opening. The pet opening is the smallest area that your pet can pass through. It is the inside width of the flap seal (the width of the chocolate-colored flap that is visible). It should be one of the following:
6" (15 cm)
9" (23 cm)
11" (28 cm)
Note the width, and then place your order.