RANGER Pet Doors for Walls (dogs)
Free shipping available in contiguous US
Expedited & worldwide shipping available
RANGER Pet Doors for Walls (dogs)
Free shipping available in contiguous US
Expedited & worldwide shipping available
In Stock | Ships Same Business Day or Next
Photo Gallery
Video Overview
DoubleMag™ Seal Technology
15X better than Energy Star standards
Avoid Leaky Pet Doors
Most doggie doors are extremely leaky, which leads to cold, drafty rooms and high energy bills. In fact, over 90% of the energy loss from conventional pet doors comes from air leakage – letting cold air directly into your home. The RANGER Pet Door by Freedom Pet Pass with DoubleMag seal is virtually airtight, so it keeps winter air outside where it belongs.
15X Better than Energy Star
The DoubleMag seal is so good, third-party lab testing showed that it is 15X better at preventing outside air from coming in than US Energy Star requirements for human doors.
500X Better than Other Pet Doors
Other brands pet doors don't actually make a seal. Even those with a "double flap" or magnets to "keep the door closed" aren't good enough, because they don't actually seal out the wind and drafts. Lab testing with the "best selling" pet door shows how much better RANGER dog doors by Freedom Pet Pass doors perform. Under official testing conditions, the competitive door leaks over 16 cubic feet of air per minute per square foot. That's over 500X worse than the RANGER dog doors by Freedom Pet Pass standard of 0.03 cfm/sq ft!
Insulated Flap Seals Out Extreme Temperatures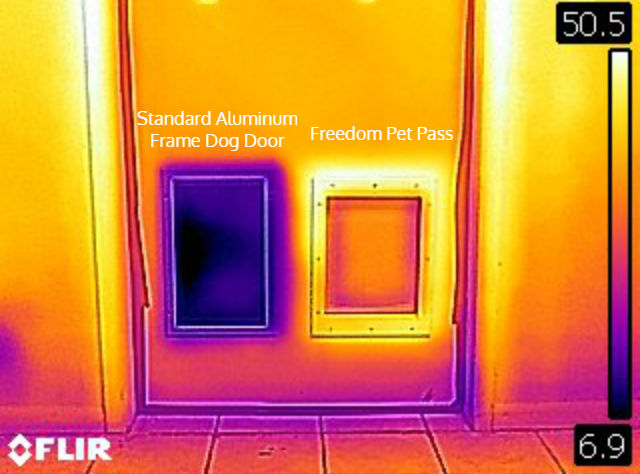 Left – Standard aluminum-framed dog door
Right – RANGER by Freedom Pet Pass insulated dog door
Outside temperature was -1° F (-18° C) and indoor temperature was 55° F (13° C). Oranges, yellows, and whites are areas of relatively warm temperature, while purples and blacks are areas of relatively cold temperatures. Temperature scale is on the right of the image.
Insulated Flap System
RANGER dog doors by Freedom Pet Pass have a thick, insulated flap to reduce conductive heat loss, which is heat loss through material. Made for cold weather, the flap components will stay flexible and functional to -40 and below.
Insulated Frame Material
The cellular PVC used in our frame is 3,000X more insulating than the aluminum material used in the frames of lesser doggie doors.
Zero Drafts
With pet doors, most energy loss comes from convective heat loss – cold air blowing in around a poor seal. The RANGER dog door's DoubleMag seal eliminates air leaks.
Actual lab data - not marketing hype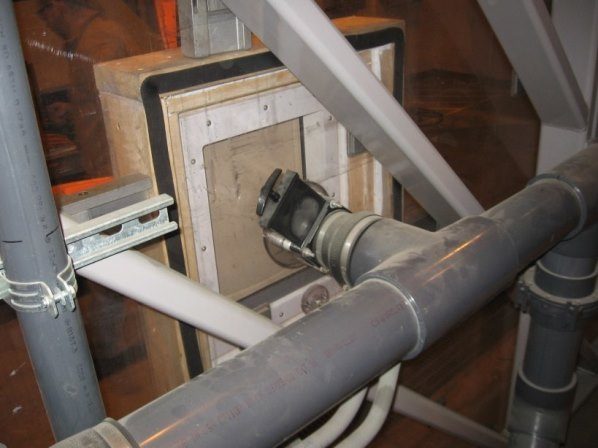 Many dog doors "claim" energy-efficiency with bogus comparisons and no proof.
RANGER dog doors by Freedom Pet Pass have extensive independent laboratory testing that prove how efficient they are.
Our dog doors are evaluated using the same tests that are used for Energy Star certification for windows and human doors, and the results show that RANGER dog doors are 15X better at blocking outside air than requirements for human doors and windows.
Made from the Best Materials
Engineered from the best raw materials for a rugged, long-lasting door
Cellular PVC Frame – Strong, weatherproof, and mold-resistant, and 3,000X more insulating than metal frames used on lower-end dog doors.
Rugged Flap System – The insulated flap system is made from premium materials for maximum energy-efficiency, pet safety, and durability. The flap has an insulating SBR rubber core, protected with marine-grade canvas on each side. The flap seal is made from thermoplastic polyolefin, a material also used for industrial roofing
Locking Security Panel – All wall-mounted RANGER dog doors come with a locking security panel. The "up-and-in" insertion of the panel means no additional clearance is needed around the pet door.
note: to prevent injury to pets and damage to the door, do not use the security panel to lock your pets outside.
The Pet Door Made for New Construction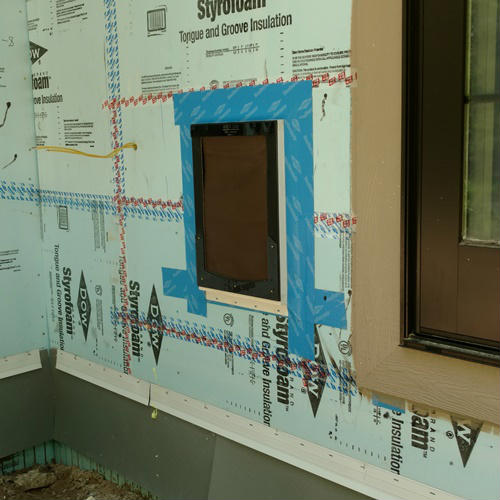 Engineered for New Construction
RANGER wall-mounted dog doors are made for new construction applications and major remodels. They are designed to be installed at the same time as windows and doors using the same techniques.
Builder-Friendly
Builders will appreciate the window-like design that allows for the use of sill pan flashing, and the included nail fin will allow them to properly integrate the pet door into the weather barrier system.
Inspector-Friendly
All RANGER dog doors by Freedom Pet Pass come with energy-efficiency ratings attached for easy reference by code officials.